All in One
---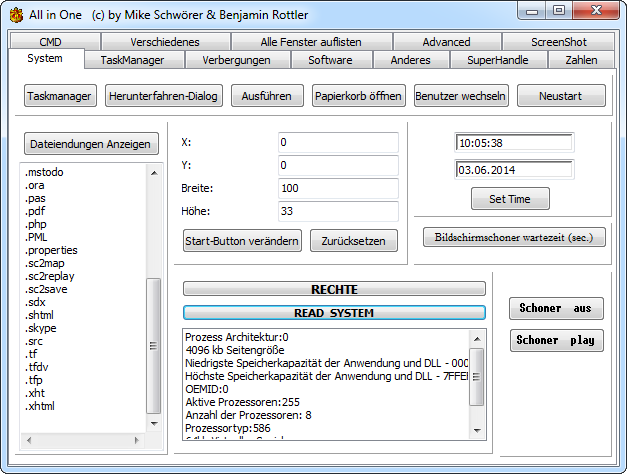 Name:
Language:
Delphi
Category:
Tool
Date:
2008-11-26
---
All in One is a multifunctional tool with many, many features.
In fact it's a Compendium of everything we found useful and easy to implement (or easy to copy the code from somewhere ...).
It's developed by Benjamin Rottler and myself in the glorious language Delphi.
Highlights
Show registered file extensions
Shutdown PC, Restart PC
Change the size and text of the start-button
Change the system time
Disable the screensaver
Read your system rights
Show runnign processes
Hide multiple system elements (taskbar, clock, TNA, startbutton ...)
List installed software
Show Mac address, ip address, ie version, win version
Get Special windows paths
Set any window to fullscreen
Maximize, minimize, hide, kill, highlight any window
Convert Roman numbers and arabic numbers into each other
Execute cmd-commands
List all window captions
Delete itself (without a trace)
Make a screenshot