Quick HiddenFolder Toggle
---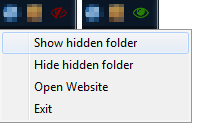 Name:
Language:
C#
License:
Category:
Tool
Date:
2016-01-03
---
This is a (very) small tool primarily made for me.
It displays an icon in the taskbar and by clicking on it you can toggle the explorer option 'show hidden files and folders'.
The icon also shows if hidden files/folders are currently visible.